If there is one thing that the world has started focusing on after the entrance of Covid-19, it has to be the significance of immunity. One of the major ways in which you can fight Covid-19 is keeping yourself mentally and physically strong.
To ensure that your mental well-being does not go for a toss during these tough times, plan your next immunity retreat to Igatpuri. The perfect location where safety goes hand in hand with the dream of travelling. Whether you wish to find yourself spiritually or just relax amid the serene nature of Igatpuri, this wellness tourism destination is a must this summer!
What makes Igatpuri one of the most famous wellness tourist spots?
It is a well-known fact that the greenery around us can help our immune function in a much better way. The dense forests, mist mountains, and beautiful valleys of Igatpuri act as the perfect getaway for a serene vacation. In addition to providing the ideal escape from mundane city lives, the splendid nature activities are a haven for enthusiasts.
However, what stands out among all these is the Vipassana Centre of Igatpuri.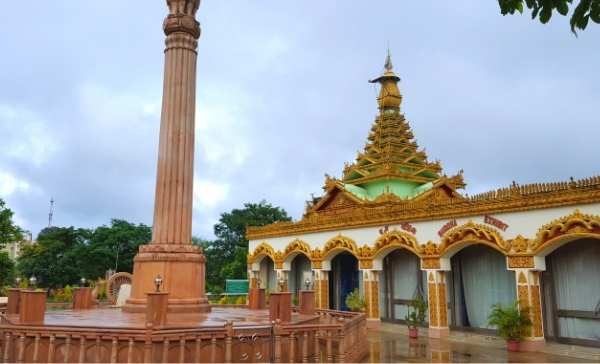 The Vipassana International Academy is one of the largest meditation centres around the world and one which should be a must-visit for all around the world, especially during these tough times. Meeting people from across the globe, being able to stay in your shell and escape when required are just minor highlights at the Vipassana. With the help of the short and long courses at Vipassana, you can help your soul reach a level of tranquillity that it would otherwise never be able to attain.
The free-of-cost food, meditation instructions, and accommodation will further assist in not letting you focus on anything but yourself. Indulging in one of these courses would be the best gift you would have given to your body in a very long time.
Igatpuri does not shy away from spectacularly built architecture either. Ancient temples and architecture form an integral part of the Igatpuri lifestyle.
The Amruteshwar Temple is one of the oldest Shiva Temples in Igatpuri that is believed to be over 1200 years old. Whether we talk about the beautiful rock carvings or the impressively carved statues, each of them along with the presence of Lord Shiva create a sense of relief among its visitors.
To ensure that your wellness getaway does not become a vacation you cannot wait to return home from, remember to stay away from hectic and tiring schedules. Focus on rebooting your life by focusing on the tiny moments of relaxation you experience.
If de-stressing, relaxing, and maintaining a healthy lifestyle were on top of your bucket list this summer, we believe that your trip to Igatpuri must be planned right away. To be successful in the process of "finding" yourself spiritually, Igatpuri will be waiting to find you in its city!